Living in Texas comes with a lot of perks: little-to-no snow, great tex-mex food, and less government regulation. Many parts of Texas decided they didn't want to have their electricity provider be set for them by their local government and instead opted to have multiple companies compete for their business. In this article, we're going to talk about some of the benefits and hindrances to living in a deregulated area.
What Does it Mean to be Deregulated?
To be a deregulated part of Texas means you can choose your energy provider. In 2002, Texas state legislature made Texas a de-regulated state for electric companies after having been signed into law in 1999, which means property owners have a right choose where they get their electricity. Of course, some cities decided to stay regulated like Austin and San Antonio, but most other areas welcomed the added competition. By not having a municipal-owned or electric cooperative, the deregulated areas host multiple energy companies competing for business.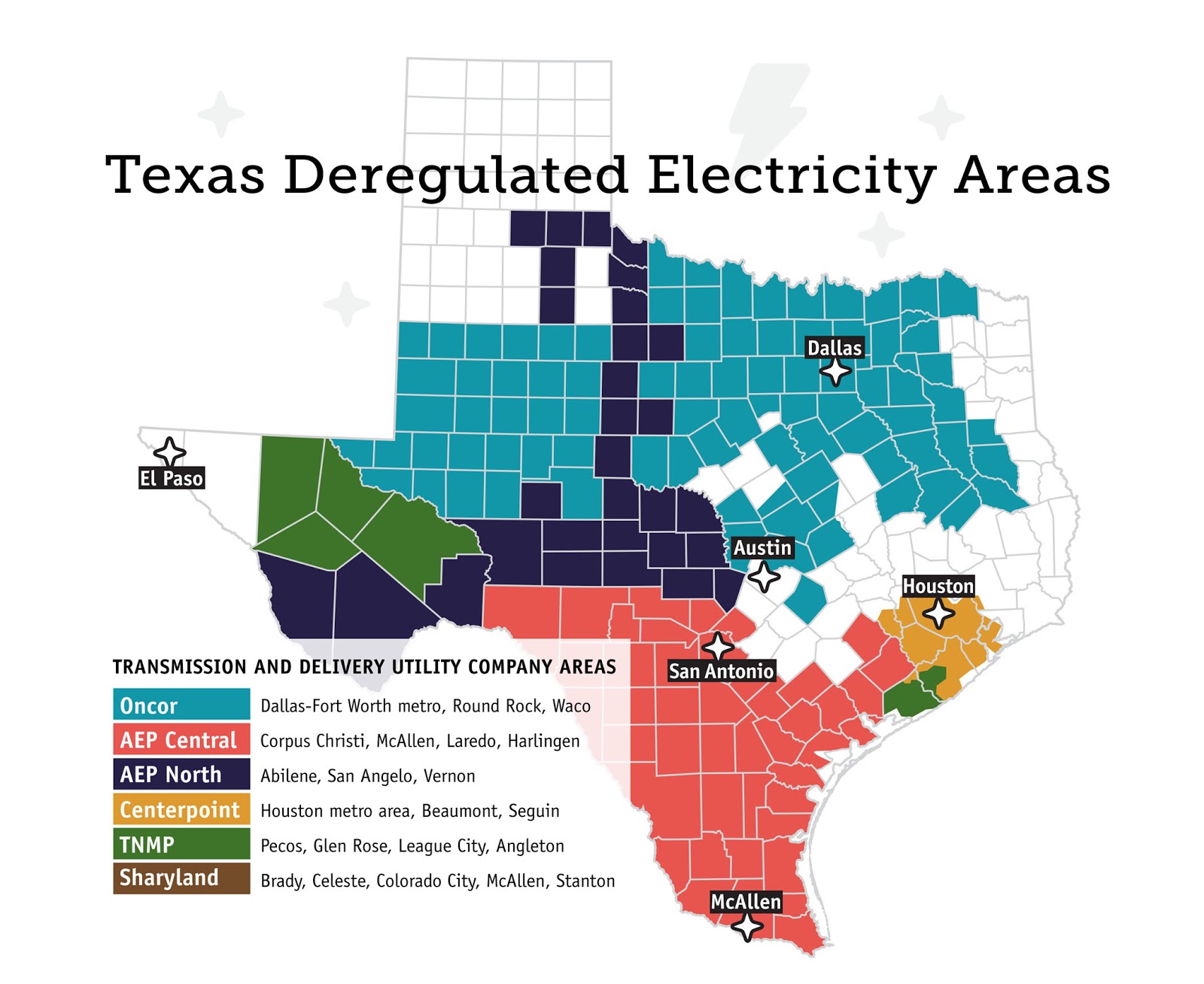 Benefits to Deregulation
Energy companies have to work harder to earn your business. Many of them will offer competitively low rates or signing on bonuses to attract more customers, while others invest more into training their staff to have the best customer service – what customer wouldn't like that?
Additionally, there are indirect benefits to a deregulated energy market. Energy companies have greater incentives to shutdown older, inefficient power plants and replace them with new ones. These energy companies are more open-minded to alternative energy sources as they're often safer and more efficient than traditional energy sources.
Homeowners in deregulated areas also get the benefit of smart-metering. Any regulated area homeowner reading this will likely be asking, "What's that?" Smart-metering allows for faster outage detection and therefore faster restoration of service. Homeowners with a smart meter can also easily measure their energy usage in hourly increments. When you live in a regulated area, co-op electric companies are less inclined to provide upgraded technology that would help you track their performance.
Downside to Deregulation
Deregulation is still a fairly new concept in Texas, so the findings on its cost effectiveness are still inconclusive. It doesn't help that electricity rates can be confusing to understand. Many utility companies charge different rates depending on the time of day and time of year, making it difficult to compare one company to the next. This also makes shopping around for a utility company a nuisance for some people.
Deregulated areas tend to bring out the large, state or nation wide companies. People that prefer the local feel to an area-specific utility company (even though they all buy from the same wholesalers) may feel nostalgic. And it's true, these utility companies in regulated areas tend to do more for low-income households that can't afford their energy bills. This is not to suggest people living in deregulated areas have no support, in fact anyone in Texas can call 2-1-1 for financial assistance on their energy bill thanks to programs like Low Income Home Energy Assistance Program (LIHEAP).
Things to Note
If you're considering going solar in a deregulated area, you'll want to do some research on which energy provider has the greatest energy buyback program, also known as net-metering program. It's rare to find two energy companies with the same rate for purchasing excess electricity. If you already have a provider and know they don't do any buyback, you still have options. Most solar installation companies will pay the cost for you to transfer to one with a better solar policy, ultimately saving you more money.
Related Content